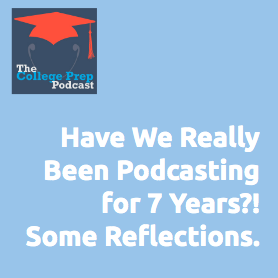 Can it be that we are still podcasting as we start our 7th year?! We've outlasted many of our "competitors" who were also doing college prep podcasting back in 2014 when we began.
Join Megan and Gretchen as we reflect about the last 7 years. Specifically we'll share:
What our original goals were, and where we are in regards to achieving those goals
What's changed: in our lives, in the podcast, in the landscape of coaching
Some amusing anecdotes from our almost 300 episodes together
And more!
Enjoy this walk down memory lane…
Podcast: Play in new window | Download
Subscribe: Apple Podcasts | Android | RSS