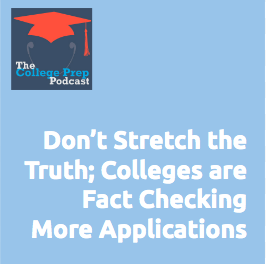 Thanks to the Varsity Blues scandals, colleges are reviewing their application policies and looking to improve the integrity of their admissions systems.
What does this mean for high school seniors applying to colleges? Tune in to find out.
In today's podcast, Megan shares that the new policies have implications for even non-athlete, regular applicants. She shares with Gretchen:
The ways in which colleges have stepped up their review of applications for accuracy
The kinds of verifications of achievements that recruited students must provide.
A new emphasis on details of a student's history that some consider insignificant, but are now important to track
Advice for how to account for these changes on your own college applications.
Podcast: Play in new window | Download
Subscribe: Apple Podcasts | Android | RSS