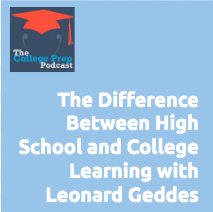 Many students experience a rude awakening when they get to college, and realize they aren't ready to do the kinds of learning and thinking tasks college professors expect.
Guest Expert Leonard Geddes breaks down the key differences between high school and college.
Listen in to this excerpt from a 2 hour training Leonard provided for Gretchen's Anti-Boring Educators' Club, as they discuss:
The definition of metacognition
What metacognition has to do with levels of learning
Key differences between the thinking required in both high school and college
How students' awareness of these differences can help them show up differently in their classes
Leonard Geddes is the founder of The Learn Well Projects, which engages in a diverse collection of partnerships, collaborating with institutions to develop comprehensive plans to enhance student learning and invigorate the teaching culture to improving the academic performance of specific groups such as student-athletes or first-generation students. Whether working with administrators, teachers, learning support professionals or directly with students, The LearnWell Projects employs an empathic design approach that consistently exceeds clients' expectations.
Podcast: Play in new window | Download
Subscribe: Apple Podcasts | Android | RSS