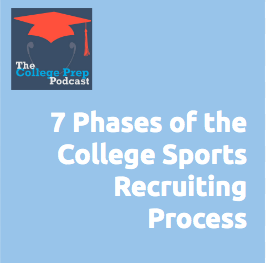 There's a university for everyone, and a college sports team too.
If you're curious about how to prepare for college sports recruitment, even if you're as young as 8th grade, this interview with Guest Expert Chris Stack is a must-listen.
Tune in as we discuss:
what to expect at every phase of the college recruiting process
how to find the right college fit — academically, athletically, and personally
how to gain exposure as an athlete
the importance of standing out on and off the field
and more!
Chris Stack is the founder of Guiding Future Stars, author of the College Recruiting Playbook, and developer of Designing Your Pathway to College Sports Curriculum. He worked in intercollegiate athletics for over 12 years, as a DI/D3 Soccer Coach and Director of Student-Athlete Academic Support and Student Development. His organization Guiding Future Stars is committed to educating prospective student-athletes about what it takes to play at the next level, how the recruiting process works, and how to be successful in the classroom, on the field, and in the community. Visit his website here.
Podcast: Play in new window | Download
Subscribe: Apple Podcasts | Android | RSS