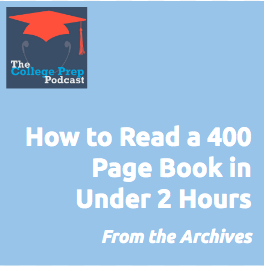 One of the most time consuming activities for students is reading!
Tune in to discover simple tips for reading faster and more effectively than you ever thought possible.
The section of the book readers usually skip (but shouldn't)
How to skim for the structure of the information so you remember the main points
How to find secret clues inside the chapter that will allow you to quickly identify main ideas
How to use your hand while you read to help you read faster
How to annotate a nonfiction text (it's not what your teacher taught you!)
and more.
If you'd like to check out the original video 4-part series that this podcast is based on, check out Part One, Part Two, Part Three and Part Four of How to Read a 400 Page Book in Under Two Hours.Audio Player
This podcast originally aired on January 16, 2017.
Podcast: Play in new window | Download
Subscribe: Apple Podcasts | RSS