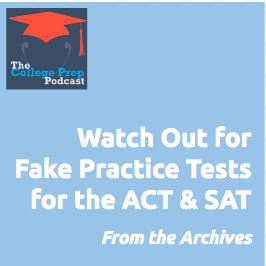 Did you know that many of the practice SAT & ACT tests offered by companies to help you study — are fake?! Don't fall for fake tests!
Megan walks you through how to make sure the practice tests you are taking are legit… and will actually help you study effectively for the ACT and SAT.
Specifically, she walks you through:
What advertisements to watch out for so you don't get bamboozled by fake practice tests
Legitimate methods for taking practice tests
Creative ways to get your teen to take "kitchen table" tests proctored by you
How to get a baseline result
Whether or not the PSAT will be helpful for you to take
and more!
This From the Archives episode first appeared in January 2018.
Podcast: Play in new window | Download
Subscribe: RSS