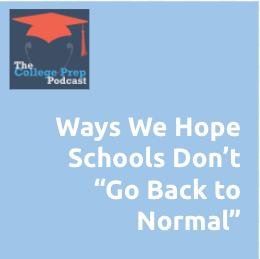 As we celebrate the holidays together, let's envision what's possible for schools and schooling!
How can we use some of the changes forced by this global pandemic to create something beautiful and new, and not just "go back to normal"? The following quote by Sonya Renee Taylor has inspired this episode: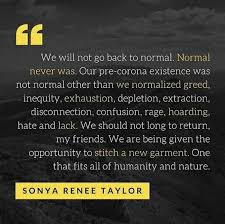 Listen in as Gretchen and Megan imagine what might be possible, if schools bravely choose to "not go back to normal":
How standardized testing in college admissions might change
The ways in which meaning, purpose, and mental health might be more deeply infused into schooling and the college admissions process
Some practical changes to campus visits, counselor presentations, and the Duke TIP program
How the process of teaching and learning in classrooms might shift
The ways in which academic habits and skills might take focus over content
Curricula centered around racial justice
And much more!
Do you have more to add to the list? If so, please email us at collegepreppodcast [at] gmail [dot] com.
Podcast: Play in new window | Download
Subscribe: Apple Podcasts | RSS