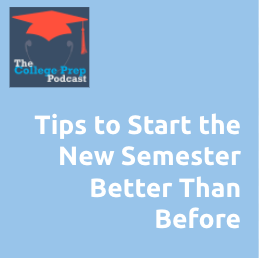 It's the start to a new semester, which means a fresh start and one more opportunity to turn the school year around. Tune in as Gretchen and Megan discuss tips for how to set yourself up for success this spring.
Specifically, they discuss:
1. How to do a review of the last semester and identify the key areas for improvement in the areas of time management, organization, study skills, and mental health/self care.
2. How to pick one specific theme for what you'd like to improve the MOST.
3. The importance of creating a system for how to track what you want to improve.
Podcast: Play in new window | Download
Subscribe: Apple Podcasts | RSS