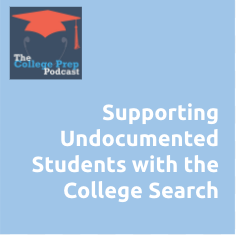 The college search process is intimidating for any families; add an "undocumented" status, and it becomes even more complex.
In this episode, Megan walks us through some basic things to think about for any undocumented students and families, as well as the professionals who support them.
We discuss:
the definition of undocumented
the college-related challenges of being undocumented
college-search related actions that may jeopardize your status or risk deportation
what do do once you're in college
how to support students who are undocumented
and more.
Megan also shares some resources for undocumented students: The Dream, My Undocumented Life, andThe Dreamer's Roadmap.
Podcast: Play in new window | Download
Subscribe: Apple Podcasts | Android | RSS