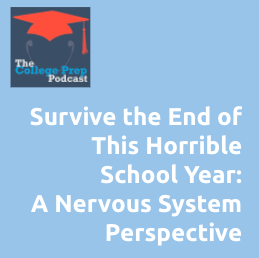 This has been the worst school year ever, and students and parents are barely hanging on as we near the end.
Learn a few nervous system tools to help you stay as regulated as possible… and get all that missing work turned in. Specifically, Gretchen walks Megan and listeners through:
a definition of the nervous system, and the three major "states" that human move through
an explanation for what the "window of tolerance" is, and how it is the optimal state for learning
some tips for how to keep ourselves in the "window of tolerance", and/or bring ourselves back to regulation
the importance of "co-regulation" and how parents' can manage their own nervous systems as a way to support their students
and more!
Podcast: Play in new window | Download
Subscribe: RSS