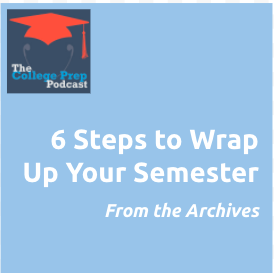 It's the end of the semester!
Here are 6 straightforward tasks that will help you wrap things up, and position yourself to take a full break this summer, and then rock the next school year.
Gretchen and Megan chat about:
How and why to clean out your files and get set for the next school year
the importance of verifying the accuracy of grades and transcripts
how to reflect about what worked and didn't in a way that helps you remember for next year
a trick to making sure summer assignments get done well
the importance of updating your resume with all your school year activities, and
(for juniors only) how and when to ask teachers for recommendations.
Have a great summer everyone!
This From the Archives episode originally aired on May 23, 2016 as episode #106.
Podcast: Play in new window | Download
Subscribe: RSS