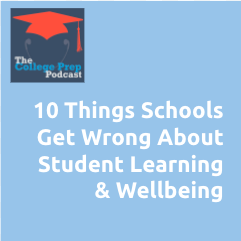 Have you ever thought about why schools are structured the way they are, from grades to homework and more?
Researchers and authors Jared Cooney Horvath and David Bott chat with Megan and Gretchen about their latest book 10 Things Schools Get Wrong. Together they unpack topics like:
the difficulty and the importance of good teaching, a
why grades are a good motivator but a bad learning indicator (and should probably be abolished)
the reason that growth mindset is not the magic bullet we'd all hoped it might be,
and more!
To access follow up resources for the book, check out the book's official web page or this YouTube channel.
Jared Cooney Horvath is a cognitive neuroscientist with expertise in human learning, memory, and brain stimulation. He earned his Master's degree from Harvard University and his Doctorate from the University of Melbourne. In 2018, Dr. Horvath co-founded LME Global to bring his pioneering brain and behavioral research to teachers, organizations and professionals looking to boost their performance and gain a competitive edge. To inquire about booking Dr. Horvath for a speaking engagement, or to view his online courses and training material, visit www.lmeglobal.net. You can also find him on twitter at @jchorvath.
David Bott (PGDipEd, PGDipPsych) is the Associate Director of the Institute of Positive Education. As an expert in applied wellbeing science, David has supported thousands of educators across the globe in designing and implementing system-level approaches to wellbeing. David sits on the Dubai Future Council for Education and has published in prominent academic journals and industry periodicals. He currently serves on the board of the Positive Education Schools Association. You can find him on twitter at @davidbott.
Podcast: Play in new window | Download
Subscribe: Apple Podcasts | RSS