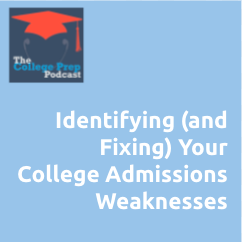 It's not as complicated as you think to identify your college admissions weaknesses. But it CAN be confusing to figure out how to fix them!
Megan breaks down a simple process for figuring out how to look your best for your college apps. Specifically she discusses:
How to find out how college admissions functions for each of the schools on your list (you might like to reference this article).
How to identify what your specific issues are (grades, activities, purpose, etc).
What to do to fix things, if you identify these challenges ahead of time
What to do to fix things on your college application, if you neglected to identify it in advance
How to understand the realities of admission at each school to which you apply.
Podcast: Play in new window | Download
Subscribe: Apple Podcasts | RSS