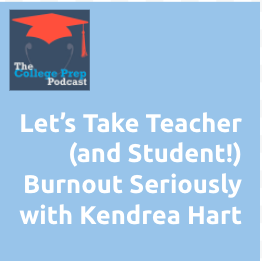 What is a school psychologist in a public school in Los Angeles seeing in regards to teacher and student burnout?
Guest expert Kendrea Hart and Gretchen Wegner speak openly and vulnerably about teacher and student burnout including:
what Kendrea's seeing in teachers and students in her own school and across the country

the unique challenges of teachers not being able to close the door to protect themselves from stressors,
why "self care" is more than a buzz word, and how schools can make more time for teacher self care
their own experiences with burnout and attempts at self care routines
and a lot more.
Kendrea Hart's company Mzima Consulting will be offering a retreat this summer to help address teacher burnout and self care. For more information about that retreat, click here.
Podcast: Play in new window | Download
Subscribe: Apple Podcasts | RSS