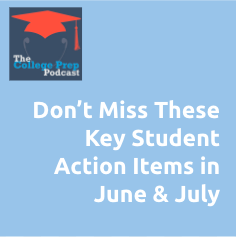 What can families and educators be considering as we slide into June and July?
Megan and Gretchen share a short checklist of important tasks to consider this summer related to college admissions and academic skill development.
Specifically they discuss:
what college admissions tasks each high school grade level can do
how to reflect about the past year to set yourself up for success next year
what kind of skills coaching to do this summer if you need
and more!
Podcast: Play in new window | Download
Subscribe: Apple Podcasts | RSS