Does school feel like an overwhelming juggling act?!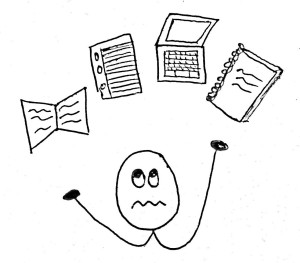 Academic Life Coaching will help with: 
~ Time Management & Organization  
~ Study Skills & Test-Taking  
~ Writing & Research  
~ Self-Advocacy  
~ Tackle Procrastination  
~ Breakthrough Paralyzing Perfectionism  
~ Independent Problem Solving  
~ Planning & Taking Action  
~ Succeed without Sacrificing Fun  
 
Finally feel smart again. Don't just survive…THRIVE!…  
in high school, college, or grad school.
Click here to visit Gretchen Wegner's website and find out more about her one-to-one coaching packages and group programs, including the Best Semester Ever and the Anti-Boring Approach to Powerful Studying.
Who is Gretchen, anyway?
Gretchen Wegner, a learning and creativity expert, inspires people of all ages to uncover their true identities as capable, clever, and creative learners in school and life. As an academic coach, she has helped 100+ students thrive as they navigate the tricky transitions through high school and into college and grad school. As a creativity consultant, her workshops and one-on-ones have supported hundreds of people in finding more playfulness and expressive freedom. She is also the inventor of the MuseCubes™, a productivity toy that helps people — quite literally! — shake themselves free from stuck patterns. A former Fulbright Fellow, Gretchen has a Masters in Curriculum and Instruction and is a credentialed middle and high school teacher and certified facilitator of InterPlay™. She is also an improvisational performer, lindyhop dancer, backpacker, and proud resident of Oakland, California. Find out more at www.gretchenwegner.com.