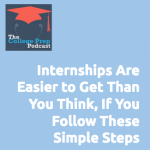 Internships are easier to get than you think!
Guest expert Anita Wing Lee shares her inspiring story about how she managed to land 5 internships that took her to 21 different countries, and ultimately led to a job right out of college — in the career of her dreams! During this podcast she tells her remarkable story and shares the secret to how she scored so big: at an early age, she learned how to network.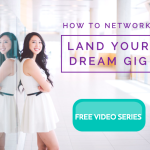 According to Anita, mindset is one of the biggest impediment to students learning how to successfully network. High school and college students need to learn that they have something valuable to offer, and that they are worth other people's time. Furthermore, the traditional way of applying for internships and jobs is to try to become what other people are looking for; however, if you focus instead on what kind of life you want to lead and what impact you want to make, and share that desire with everyone you know, you will be more successful (and happier too!).
Anita provides specific tips for high school and college students that include:
spend time expanding your sense of possibilities for future careers by researching on ye ol' Google  what you might want to do
when your research reveals people doing interesting work, reach out to them via email or twitter (even if you don't know exactly what to say)
cultivate relationships with teachers and professors who you find inspiring
spend time volunteering, attending speaker series', reaching out to teachers in other departments, attending the meetings for professional organizations and industry associations
get a coach, so that you have a partner helping you implement your vision for your life
Listen to this podcast episode to hear all these inspiring tips, and more! Feel free to also download Anita's free e-book called The 3 Habits of Outrageously Successful Students, or this link for another freebie she offers about how to land your dream gig.
Anita Wing Lee helps ambitious millennials, students & aspiring changemakers get clarity on their passion and create Freedom Careers. Anita landed unheard-of, paid, travel internships in university, traveling to 21 countries by the time she graduated. With all her eclectic experiences, she still scored her dream job,  and now knows it's possible for everyone to create a career doing what they believe in and love.  Find your passion, get paid to make a difference and become financially, emotionally, mentally and physically free!
Podcast: Play in new window | Download
Subscribe: Apple Podcasts | Android | RSS