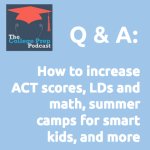 We love our listener's questions! Here are the ones we tackle on today's episode:
SAT or ACT? Should my son take the SAT or ACT? We don't want to take two prep classes, but don't know which one to sign him up for. Is there some type of guideline for which test is better for certain students?
Is Tutoring Worth the Effort to Raise Scores on the Math Section of the ACT? I'm interested in how to best help our daughter increase her ACT score and shore up a math instability. She's getting by pretty well with Trig and Chemistry. Math is not her future interest, but it is important and she's considering doing AP calculus next year as a Sr. My question for you is regarding Kumon. She did Kumon when she was early elementary–very worthwhile, but torturous. We had her assessed last night. The starting point is double digit multiplication and long division. It will likely take her six months to get the weak points remediated using their method–mostly due to the time constraints they use. She's motivated right now. She has a very busy spring coming. I don't want to waste money or have to nag to manage this. She believes the time emphasis they use will help her on the testing and she is becoming a mastery mindset student. I'm interested in your thoughts regarding Kumon in this situation versus traditional tutoring and/or test prep as well as what you offer regarding tutoring for this scenario with timeframes and cost.
Learning Math with Extreme Learning Disabilities. Jack is having a very difficult time with Algebra II. I think some of it is due to his dysgraphia as there does not seem to be a very good Math Write program/App available, the other problem is short term memory issues+ working memory of 8%+slow processing make simultaneous equations and graphing equations almost impossible. It is taking him 7 hours to complete 4 questions. Retention is also a problem. After hours of Khan Academy, I think he is more confident about concept, but the 'process' is killing him. He is a bright lad, scoring in the high 90% for reading comprehension and verbal skills, and I am sure that his LD is at the root of the problem, Trig, Geometry and Physics are subjects he loves…but Algebra is kicking his butt. I am trying to find him a tutor, but any suggestions would be greatly appreciated.
The Best Academic Summer Camps. I have to begin by being very grateful to you, with all the information that you provided on the podcast about the PSAT. I came across your website when I was trying to get reviews about the NYLF of engineering and technology. As a parent on a freshman, I was trying to read the reviews of parents about this summer camp. I would like to know what your opinion is about this summer camp. How much does it impact a student and what is the positive outcome for sending my child to such a camp?
Podcast: Play in new window | Download
Subscribe: RSS