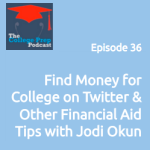 Did you know that twitter is a great source for college advice, giving you direct access to pros who can advise you about all stages of the financial aid process?
On today's episode Megan and Gretchen grill Jodi Okun about all things financial aid and college. They cover topics like:
how to use twitter to research ways to pay for college
how to sort the good information from the bad information that you find on twitter and the internet
the importance of tracking students' digital footprint in preparation for the college search process
the biggest mistakes families are making that cost them hundreds of dollars of money (hint: the forget to set up their account in the "student center" after mailing off their FAFSA form)
how financial aid processes are different if you are not a US citizen,
and more.
If you decide you'd like to use twitter for your college search process, you might like to follow hashtags like #collegecash, #fachat, #campuschat, #collegechat, and #emchat.
Jodi Okun is the founder of College Financial Aid Advisors. She has successfully helped thousands of families navigate the financial aid process.  Her expertise parallels her passion and has made her a top influencer in the financial aid industry. Jodi's background includes over ten years in the financial aid industry. She is a former Financial Aid Consultant at Occidental College and Pitzer College. Through Jodi's large and loyal Twitter following, she has organically incorporated philanthropy into her brand. Every Thursday at 5pm PST, Jodi hosts #CollegeCash: a Twitter chat devoted to connecting college-bound families with higher education professionals. On average, #CollegeCash receives more than ten million impressions per week, making it a top resource for parents and students.
Podcast: Play in new window | Download
Subscribe: Apple Podcasts | Android | RSS