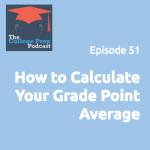 Calculating your GPA is a great skill for both parents and student to have.
As students progress through high school, they are clear what colleges will be seeing on their applications.
Megan breaks down exactly how to calculate a GPA in a variety of different situations, including:
The general GPA calculations
How to handle upper level classes
Exceptions to these rules, including distinctions between plusses and minuses, pass/fail, and more.
Podcast: Play in new window | Download
Subscribe: Apple Podcasts | RSS