Every fall the Duke Talent Identi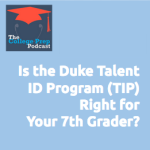 fication Program (TIP) sends out invitations to high performing 7th graders to join their program. During this episode Megan breaks down all the reasons you would, and wouldn't, want to participate in this program. She knows first hand, given her own daughter went through part of the program; she's also watched several clients go through it.

For listeners who don't know, the Duke University Talent Identification Program (Duke TIP) is a nonprofit organization dedicated to serving academically gifted and talented youth by identifying, recognizing, and challenging gifted students to reach their highest potential. It involves having 7th graders take the ACT test, and then based on their scores, inviting them to participate in enrichment activities.
During this episode, Megan delivers some straight talk on the following topics:
2 stories of students' negative experiences with the program
a list of benefits to going through the program
how to tell whether the program is right for YOUR gifted student
what to do if you've received an invitation letter to participate
how to decide whether your 7th grader will take the ACT or SAT
how to set your student up for success when taking the test
how to approach the test with a positive attitude, and how to follow up in ways that inspire (rather than disappoint) your student
For further reading, here are three articles that Megan wrote about the program: (1)Should 7th Graders Take the ACT or SAT for Duke TIP?, (2) Preparing to take the SAT or ACT for Duke TIP, and (3) Personal Experience with Duke TIP.
Also, for your reference, students invited to a state ceremony meet at least one of the following criteria:
ACT English ≥ 21
ACT Math ≥ 21
ACT Reading ≥ 21
ACT Science ≥ 21
ACT* Or with three of the four following scores English = 20, Math = 20, Reading = 20, Science = 20
SAT Math ≥ 530
SAT Critical Reading ≥ 510
SAT Writing ≥ 500
[10/1/15, 11:48:50 AM] Megan Dorsey: *Or with two of the three following scores: Math = 520, Critical Reading = 500, Writing = 490
For more information, listen to the episode and then check out the Duke TIP website here.
Podcast: Play in new window | Download
Subscribe: Apple Podcasts | RSS