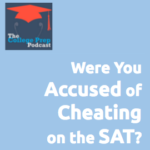 What does ETS do if they think they catch you cheating on the SAT?
Megan tells stories from two of her clients whose scores improved so much on the SAT that the testing service sent them an unfortunate letter.
That letter stated that the extreme improvement between their PSAT and SAT scores were a sign that there was possible cheating on the test, and their scores were being withheld while it was being investigated.
Tune in to find out how Megan and her clients worked with this shocking news, as well as find out what to do in the future so you or your student doesn't have to worry about the same problem.
Podcast: Play in new window | Download
Subscribe: RSS