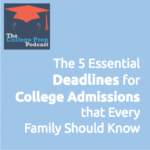 Do you know the 5 essential deadlines for college admissions?
Megan has noticed that most of her newest clients seem clueless about what college app dates to pay attention to, and what to ignore, as the school year progresses.
So, if you are the parent of a high school sophomore, junior or senior, this episode is for you! We want you to be ultra prepared for what's coming down the pike in terms of the college admissions calendar. So get out your planner and get ready to look up a bunch of dates and plan your year.
Here are the 5 dates that Megan discusses in more detail in the podcast:
For seniors: Applications for college become available August 1. Fill them out by Thanksgiving of your senior year.
For seniors: Financial aid forms become available in October; fill them out before Thanksgiving of your senior year.
For rising seniors: Finalize your college list by the end of the summer before your senior year, so that you can be on target with the above deadlines.
For juniors: Spend your junior year researching the colleges that might go on your list.
For rising juniors: Make sure you know when all the ACT and SAT dates for the year are, and plan to take one of the earlier ones.
BONUS: For rising sophomores: If you think you might be in the running for a national merit scholarship, plan to take PSAT.
Got any questions or concerns on this topic, or any other? Want them addressed on our podcast (free coaching! yes!)? Please email us at collegepreppodcast [at] gmail [dot] com and tell us all about it.
Podcast: Play in new window | Download
Subscribe: RSS