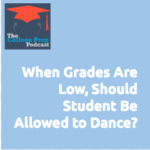 Should parents take away student's activities if their academic grades are not up to snuff?
Megan and Gretchen weigh in on this important question from a listener, about how to work with her middle school age daughter who loves to participate in a dance troupe, and who has made great strides in her difficulties with math but still continues to struggle.
Here's the specific question from mom Alissa:
My husband and I are at odds about how to encourage our daughter to keep up the good work.  She's a dancer and we told her last year that she could not audition for the dance company unless her math grade was a B and she had turned in all her work.  I was fine with that, but now since seeing her most recent test scores, he wants to make her continued participation contingent on her math grade.  I do not like that solution because it punishes not only her, but the other dancers.  I think she's struggling with math and can use this year to figure out how to balance her life in the low risk environment of middle school. I also don't want to set her up for such an epic punishment if she brings home a C or even a D.
Tune in to hear what Megan and Gretchen suggest!
Podcast: Play in new window | Download
Subscribe: Apple Podcasts | Android | RSS