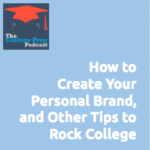 Do you know what a "personal brand" is? Any idea why learning how to be a good storyteller is an essential 21st century skill that students should develop in college?
Guest expert (and recent college grad) Brian Robben shares insightful tips on "how to college" such that you score great grades, have fun, and set yourself up to get the job of your dreams. 
Specifically, Brian, Megan and Gretchen chat about:
What a personal brand is, and how to establish one as early as high school
The most obvious things that most students DON'T do, and how this could change their college game,
How to choose paid work in college that will actually help you further your career AND provide spending money, and
A number of other helpful ways for student to "do college" in a way that will set them up for career success.
Brian Robben graduated summa cum laude from Miami University in 2015. While at college, he started the popular blog TakeYourSuccess.com, and went on to write three Amazon bestselling books on college success, resume and interview mastery, and financial freedom. Here's the link to his books, and here is how you can follow Brian on Instagram and Twitter. 
Podcast: Play in new window | Download
Subscribe: Apple Podcasts | RSS