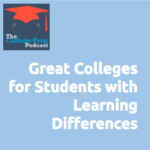 Students with learning differences or high anxiety often have special considerations when choosing what college will be best.
Tune in as guest expert Melissa Masland shares her tips about how to help non-neurotypical students land in the perfect college for them. We discuss:
what kinds of colleges students with learning differences should consider
how to help students own the college search process
what are the changes in the law regarding special education when a student moves from high school to college
how students with learning differences should approach standardized tests
when a student should get neuropsychological testing,
and more!
Melissa Masland is an Independent College Consultant who completed the College and Career Advising Certificate at UC Berkeley extension and worked at College Track for two years before starting my independent practice. I work with students of all kinds, about half of  her clients have a learning difference of some kind or anxiety and depression. You can find out more about her at www.maslandeducationalconsulting.com.
Podcast: Play in new window | Download
Subscribe: RSS