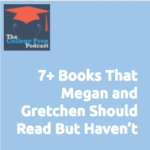 Meet two amazing educators teaching students study skills in creative and cutting edge ways. Gretchen interviews Eda Chen and Natalie Borrell about how the unique ways they've integrated the Anti-Boring Approach in their work.
Together they discuss:
why it's important that educators equip themselves with specific study theory and strategies

the creative ways they are incorporating the Anti-Boring study tools into the work they're already doing as life coaches for teens, including

Eda's plan to include study skills and career coaching into her work with foster students, and

Natalie's plans for bringing her lively in-person workshop to schools all over Ohio.
Natalie Borrell is a licensed School Psychologist and Academic Life Coach in the Cleveland, OH area. She works with teenagers who want to become better students, but need some direction on how to do so! She uses Gretchen's Anti-Boring Approach to Powerful Studying in her work with individual clients and a hands-on workshop for high school students. Check out her website, and also her Facebook page.
Eda Chen is the Owner and President of Elan Advising. It's an education and career consulting company based in Davis that works exclusively with high school students, college students, and recent grads. They use life coaching techniques to teach executive skills–like time management, emotional resiliency and more. They also help their clients with college and graduate school applications and job hunting. Eda's a UC Davis alum and grew up in Dallas. You can find her website here. She's also on Twitter and Instagram: @elanadvising.
Podcast: Play in new window | Download
Subscribe: RSS