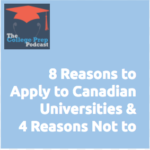 Did you know that you can save more than $20K a year by going to Canadian Universities, as compared to American ones?
There are many other reasons why American students might want to consider Canadian universities. Join us as guest expert Whitney Laughlin, Ed.D maps out the reasons why you ought to consider Canada for higher education.
Differences and similarities between the Canadian and American university systems
8+ reasons benefits to choosing a Canadian university over an American one
4 reasons why you might NOT want to consider a Canadian university
how to get scholarships in Canada
and more!
The free resources we mentioned on this episode include the Canadian government's website about their university system, an informative newspaper article about the Canadian university system, and this index of colleges and universities.
Whitney Laughlin, Ed. D is an independent college consultant who works with families to choose the perfect college for them in either Canada or the United States. Check out her website to find out more about her college and career counseling services, workshops, and nonprofit consulting work.
Podcast: Play in new window | Download
Subscribe: RSS