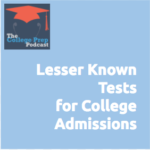 Did you know that there are more college admissions tests than just the ACT and SAT?
Some of these replace the ACT/SAT, and some of them are required in addition to these tests. During this episode, Megan walks us through all the lesser known college admissions tests.
She starts by reading us New York University's unique admissions testing policy that allow students to submit other tests in place of the ACT and SAT.
We then discuss:
The General Education Development (GED) as an alternative to a high school diploma
The International Baccalaureate  and Advanced Placement tests as replacements and/or additions to the ACT and SAT
How to use the SAT subject tests strategically to enhance your application
The importance of paying attention to local state requirements for what testing is allowed,
How to plan in advance based on the requirements of individual colleges you might consider,
The "catch" when it comes to replacing ACT/SAT with these lesser known tests,
And more!
Podcast: Play in new window | Download
Subscribe: Apple Podcasts | Android | RSS