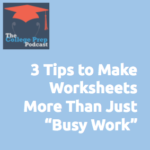 Worksheets may seem like useless "busy work," especially to bored students.
But actually, they are great tools to help you score well on tests if you use them in the right way.
Tune in to find out more about how to:
Be less bored when filling out worksheets
Turn worksheets into quizzable study tools so that you can better prep for tests
Make sure you're answering all the questions correctly so that you can…
Use your worksheet as a quizzable study tool,
and more!
Learning how to maximize worksheets as a learning tool is an underutilized habit for both students and teachers alike, which makes this a particularly important episode. If you want more anti-boring learning tips, check out Gretchen's online course The Anti-Boring Approach to Powerful Studying.
Podcast: Play in new window | Download
Subscribe: Apple Podcasts | Android | RSS