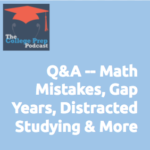 It's another Q&A Show! Here are the questions that we tackle in this episode:
1. Weird Mistakes in Math. My math teacher is a little confusing, which gets me doing weird things that complicate matters on simple problems. Mom thinks it could be that I'm making it complicated in my head, and I can see that, but I don't know exactly. Thanks for the offer, and I think I'll try it, ~ Ella, Middle School Student
2. Gap Years and Scholarships. I have been a fan for years and really appreciate your podcast. My daughter is a senior, and she was accepted to her highly selective Early Action school, so things are looking good and the pressure is off! Now we're waiting for the other schools to respond from the regular decision round. My question is about applying for scholarships when you are planning to take a gap year. My daughter has not told any of her schools that she is planning to take a gap year, but she will ask the ones that she is deciding between if it's OK after she has all of her acceptances. We already know that the Early Action school is a very pro-gap year and I think the others will be fine with it too, they're all private liberal arts schools. As she's been looking into scholarships, she has found that they all apply to students who are going to start college this fall. So, if she applied and received one of these scholarships, would she then have to tell them she's taking a gap year and then have to re-apply for it next year? If so, there's no point in going through that, and maybe she should just wait to apply for scholarships next year.
3. Distraction When Studying. I got distracted every time I sit to study. I need some suggestions. ~Aish
4. Sports Communication. I have heard you mention in 2 previous podcasts that you have a student you are working with that is interested in Sports Communication. My son Sam is a junior, and he is interested in Communication, sports or political journalism or broadcasting, and we are also in Texas. He is homeschooled, and we do not have a high school counselor. I would love to know any helpful information you have found for this student and what this field looks like regarding universities, especially in Texas.
Podcast: Play in new window | Download
Subscribe: RSS