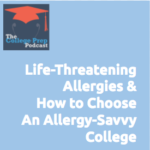 If your child has a life-threatening allergy, you know how important it is to find a college that cares, and has specific policies in place to make sure your kiddo is taken care of.
Join guest expert Monica Randall PH.D as she helps explain how to make sure the colleges you're considering are allergy-friendly. As a mother of a student with severe allergies and a college admissions expert, she's uniquely qualified to help you navigate keeping your student healthy when they go off to school. 
Together with Gretchen and Megan, she discusses:
things university administrators are doing to be allergy-savvy
what to look for on your college visit, and how to analyze the "health fit" of the the schools you're considering
how to help students with allergies develop self-advocacy skills before they go off to college
concerns related to roommates, peers, and social lives of college students,
and more
Dr. Monica E. Randall is the nation's leading college admissions experts for students living with food allergies.   With over 25 years of experience in higher education, she has insider's knowledge about college admissions, financial aid policies, and food allergy management practices on college campuses.   She is a member of the Board of Directors of the Asthma and Allergy Foundation of America and an associate member of the Independent Educational Consultants Association. She earned a PhD from the University of Maryland, Baltimore County where she conducted extensive research on financial aid and student success. She received both a Master of Arts in International Affairs and a Master of Public Administration from Ohio University. Additionally, she holds a Bachelor of Arts from the University of Virginia.   She lives in Maryland with her amazing husband, a beautiful daughter, and a spirited dog. You can find out more about Dr. Monica Randall and her upcoming courses on her website. 
Podcast: Play in new window | Download
Subscribe: RSS