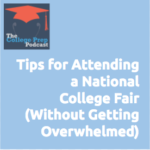 Attending a National College Fair with your high school student? We recently heard from a listener who had some questions about how to make the most of her National College Fair visit with her son. Here's her email:
My son is attending a National College Fair coming up in mid March. Do you have any strategies or ideas for best practices when attending a fair like this? There will be over 180 different colleges there from all over the country, so any suggestions on how to maximize time would be great.
Also, we have never attended a fair of this size before — can you give some suggestions for the role of a parent (hang back, listen, stay at the coffee shop?) and also some etiquette/protocol suggestions for the student. For example, how much time should they spend with a college booth, are their ways to be memorable for a student with a recruiter, if it's a college they really love, should there be additional strategies to employ and should we leave anything with a recruiter like a resume or business card or is that too much?
Listen in to Megan and Gretchen discussing how to make the most of a
National College Fair
visit without getting overwhelmed.
Podcast: Play in new window | Download
Subscribe: Apple Podcasts | Android | RSS