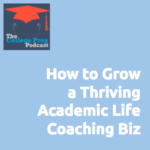 What's it like to build a successful business as an academic life coach?
Guest Debbie Lehr-Lee shares the ups and downs about her path, including how Gretchen's Anti-Boring Approach Coach training helped her go from 4 clients to a thriving a practice.
Together Gretchen and Debbie discuss:
What frustrations Debbie was experiencing when she first reached out to get trained by Gretchen
How her business has grown since then, including how Debbie created a unique niche for herself
How her work helps students feel less broken, and why that's such a crucial first step
The importance of understanding the role that technology plays — good and bad! — in teens' lives
How to decide what kind of academic life coach training program to participate in
What makes Gretchen's Anti-Boring Approach Coach Training Program unique, and how listeners might discern whether this program is a good use of their time and resources
and more!
Here is the free resource that Debbie mentioned in the podcast — a workbook to accompany the documentary Screenagers.
Debbie Lehr-Lee is an academic life coach passionate about helping high school and college students develop key academic and life skills (that are often not taught in school) so that they can be successful in academics but also be prepared for college and the real world. She is a certified Life Coach (CPC) from the world-class Institute for Professional Excellence in Coaching (iPEC), a certified Academic Life Coach from John Andrew Williams Academic Life Coaching program, and has completed Gretchen Wegner's Anti-Boring Approach Coach Training Program. Visit her website at www.unstoppablestudents.com. 
Podcast: Play in new window | Download
Subscribe: RSS