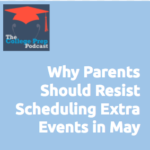 May is a crazy month for parents and students!
Families often have the habit of thinking that May will be an easy month because school is winding down.
Actually, May is worse than December in terms of scheduling a multitude of activities, including:
AP exams
May SAT's
Practice tests prepping for June SAT tests
School testing
Final exams
Prom
Banquets and Award Ceremonies,
and more!
Listen in as Megan deconstructs the myth that things will slow down before summer, and gives some tips to tame your schedule during the final slide to summer.
Podcast: Play in new window | Download
Subscribe: Apple Podcasts | RSS