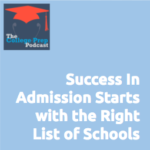 Most admission disappointment start now, with families who don't take time to create the right college list.
Listen in as Megan walks you through the 6 kinds of schools you should definitely apply to, to make sure that you get into a college that is right for you. She shares:
The top mistakes families make when compiling their own college list.
The six kinds of schools that should be on your list including: 1. the most affordable option, 2. the assured admission option, 3. good match schools, 4. the highly competitive option, 5. scholarship potential, and 6. and in-state option.
What order you should apply to those schools so that you don't burn out.
Megan also shared a resource for how to google a school to find out if it's an "assured admission" or "highly competitive" option.
Podcast: Play in new window | Download
Subscribe: RSS