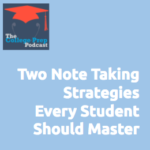 How many note-taking techniques do you consciously use when learning from a textbook?
Gretchen describes two specific strategies that you can use now in school, and the rest of your life too.
Tune into this episode to find out:
how to skim your textbook chapters quickly
how to turn the information in a chapter into charts (strategy #1)
what it means to convert your chapter notes into "quizzable study tools" (strategy #2)
some examples of charts and quizzable study tools in the context of chemistry and history (see below for links to the textbook pages that Gretchen used as examples)
and more!
Here are the two texts that Gretchen used as examples in the podcast:
pages 919-921 (Chapter 16.3) of Chemistry by OpenStax College
page 295-297 (Chapter 30) of U.S. History by Wikibooks.org
Podcast: Play in new window | Download
Subscribe: Apple Podcasts | Android | RSS