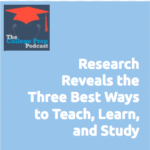 What does research teach us about the best ways for teachers to teach and students to study?
Guest experts Yana Weinstein and Megan Sumeracki, otherwise known as The Learning Scientists, school us on what research shows is is the best ways to learn, including some surprising myths about what doesn't work.
Together with Gretchen and Megan, they discuss:
The hilarious way that the Learning Scientists podcast got started
Stories from the classroom of what students at the college level struggle with in regards to learning
The three most effective strategies for learning, based on a research study from the NCTQ, which include retrieval, spaced practice, and dual coding.
Why intuition is sometimes misleading when someone is trying to figure out how to study
And more!
Here is the link for a cool way to use flashcards to do elaborative interrogation, which was mentioned at the end of the episode.
Find out more about the Learning Scientists Podcast at their website, www.learningscientists.org. Here is more information about each of them individually too:
Megan Sumeracki (formerly Megan Smith) is an assistant professor at Rhode Island College. She received her Master's in Experimental Psychology at Washington University in St. Louis and her Ph.D. in Cognitive Psychology from Purdue University. Her area of expertise is in human learning and memory and specifically applying the science of learning in educational contexts. She also teaches a number of classes from first-year seminars and intro to psychology to upper-level learning and research methods courses. 
Yana Weinstein is an Assistant Professor at the University of Massachusetts, Lowell. She received her Ph.D. in Psychology from University College London and had 4 years of postdoctoral training at Washington University in St. Louis. The broad goal of her research is to help students make the most of their academic experience. Yana's research interests lie in improving the accuracy of memory performance, and the judgments students make about their cognitive functions. Yana tries to pose questions that have directly applied relevance, such as: How can we help students choose optimal study strategies? Why are test scores sometimes so surprising to students? And how does retrieval practice help students learn?
Podcast: Play in new window | Download
Subscribe: RSS