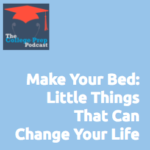 How do we motivate teens to take little actions that offer big results?
Megan reports in about a book she read recently that has lots of great advice for teens: Make Your Bed: Little Things That Can Change Your Life…and Maybe Even the World by Admiral William H. McCraven.
Even though it's written for grown-ups, Megan sees the ways that this little book could be an inspiring gift for teens, or be a great conversation starter at dinner.
Here are the "little things" that the author covers in his book, which Megan adapts for teens in this episode:
Start the day with a task completed.
You can't go it alone.
Only the size of your heart matters
Life's not fair. Drive on.
Failure can make you stronger.
You must dare greatly.
Stand up to bullies.
Rise to the occasion.
Give people hope.
Never, ever quit.
To check out the book yourself, you can find it here.
Podcast: Play in new window | Download
Subscribe: Apple Podcasts | Android | RSS