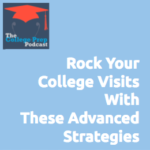 College visits are a time consuming part of the college search process, so how do you make sure you are getting helpful information when you are on campus?
How do you look past the college's marketing messages to see what is really going on?
Megan provides her Top Ten list strategies for rocking your college visit. Tune into this podcast episode for "truly highly advanced" information about how to rock each of these tips:
Make sure to book the basics: an informational sessions, a campus tour, and lunch in the dining hall.
Visit with the specific college and/or department that you are considering.
Meet with a professor in your intended major.
Attend classes.
Visit with students in your major, program, and/or sport.
Spend the  night.
Meet with financial aid.
Tour the campus at night.
Visit the campus on the weekend.
Do a scavenger hunt to look for potential problems.
Podcast: Play in new window | Download
Subscribe: Apple Podcasts | Android | RSS