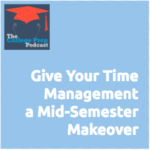 By mid-semester students' time management routines have often weakened or collapsed.
Consider these four questions when giving your routines a makeover so that you can make it to the end of the semester with your grades and self esteem intact:
First, do you have a weekly planning routine? This can be a helpful Sunday task to help you look ahead and plan for the week ahead.
Second, do you have a daily routine to do right before and after your homework? This can be helpful to make sure you are adjusting your weekly plan as needed, with every new assignment your teachers give.
Third, if the daily routine doesn't work for you, are you doing a midweek check-in ritual? This enables you to check off items from your To Do list, add new items, and make a plan for the weekend, so that you take action rather than procrastinate during your "off" time.
Finally, do you have a plan for accountability? Who else besides you can know about your plans and help make sure you feel a low-grade pressure to follow through?
Podcast: Play in new window | Download
Subscribe: RSS