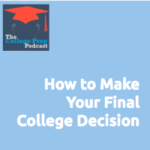 April 1 was the date by which all colleges should have notified students of acceptance; students have this month to make the final choices and notify schools of their decisions.
Tune in as Megan walks you through 10 factors to consider as you make this final decision, including:
General impression / ranking from your visits
Money– How much will you pay EACH YEAR?
Choice of Major– Are you in? Can you change your mind?
Required courses– what will you have to take at each
AP or transfer credits?
Activities, organizations, Greek life?
Travel costs and issues
Academic support
Need for family connectedness
Where will you feel supported and pushed to be your best?
Podcast: Play in new window | Download
Subscribe: RSS