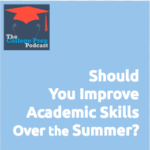 It's important to rest and rejuvenate over the summer, but it's also a great time to reflect about gifts and challenges of the past year, learn from past mistakes, and make a success plan for the new year.
Tune in to this episode during which Gretchen lays out a process to balance fun and learning over the summer. Specifically, she'll cover how to:
Guide students through a year-end reflection process, and the importance of doing so as soon as possible after the school year has ended,
Use that reflection process to identify a few areas for improvement over the summer, with special attention to the areas of time management, organization, study skills and self advocacy.
Gather new tools to help with the challenges — time management, organization, study skills, self advocacy
Make a "Time Capsule" or "Cheat Sheet" of tips and tricks for the new school year that you can refer to when the school year starts
Make a plan for how to put those tips into action when the new school year begins.
It is certainly possible for parents to lead students through this reflection process themselves, including working through the Anti-Boring Approach to Powerful Studying online course with their students; however, if you'd like a coach to guide you through this process, feel free to check out any of these Anti-Boring Approach Coaches.
Podcast: Play in new window | Download
Subscribe: RSS