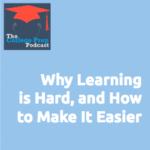 Too many students judge themselves as "stupid" because learning new things feels hard. Understanding this one brain fact goes a long way to helping students feel better about themselves as learners.
Tune in as Gretchen explains:
What a neuron is and how a neural pathway is created in the brain,
Why it's totally normal if learning feels hard,
How to stick with a hard task for long enough so that it feels easier,
And more!
If you'd like to learn more tools and tricks to make learning easier, check out the  Anti-Boring Approach to Powerful Studying online course; you might also like to book a few sessions with any of these certified Anti-Boring Approach Coaches.
Podcast: Play in new window | Download
Subscribe: Apple Podcasts | RSS