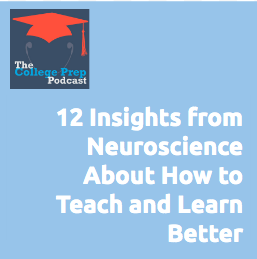 Ever wish you could ask a neuroscientist all your questions about teaching and learning?
Today Megan and Gretchen got to interview professor and author Jared Cooney Horvath about his new excellent new book, Stop Talking, Start Influencing: 12 Insights from Neuroscience to Make Your Messages Stick.
Gretchen was particularly excited about this interview, because this book underscores so many of the lessons she teaches in her courses for students and educators!
Tune in to hear this wide ranging conversation, and to learn more about how we can harness the way the brain works to teach and learn better.
Jared Cooney Horvath is a cognitive neuroscientist with expertise in human learning, memory, and brain stimulation. In 2018, Dr. Horvath co-founded LME Global, a mission-driven company serving teachers, students and schools through applied learning sciences. To learn more, visit www.lmeglobal.net.
Podcast: Play in new window | Download
Subscribe: RSS