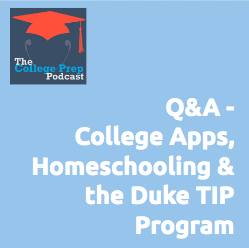 We love it when families reach out with questions! Today Megan and Gretchen tackle topics related to college admissions, the Duke TIP program for 7th graders, homeschooling, and more!
Switching to ACT. My son thought the SAT would be his test, but turns out he was wrong. He is scheduled to take the ACT at the end of October. Should he wait to apply to colleges until he gets his score back?
Homeschooling and Study. I have been thinking about how to apply the study cycle to my homeschooling situation and I realized that for me, the word "study" cycle was throwing me off since that brings to mind tests and quizzes. We aren't quite there in our homeschooling journey as my son just entered 6th grade this year and he only gets quizzes and tests from his math teacher, who doesn't really hold much weight to the meaning of tests since he really wants the kids to understand and remember the info long term rather than JUST striving for a high grade. I realized that "learning cycle" spoke to me more since we are learning and not testing. By no means am I doubting your name, I just wanted to share that one word shift for me that made your info more useful and clear to me. Regardless, I love the structure you have created and the idea of having several study/learning tools in your toolbox. It goes really well with the emotional toolbox idea as well!
College Apps to Specific Schools. Our daughter is beginning the process of college applications, starting with UT, Austin. She's at the point where it asks her to choose her first and second choice majors, and it's caused quite a discussion. We've concluded that she should put the School of Business as her first choice and School of Communications as her second since the business school is so difficult to get into and even more difficult to transfer in to. Here's what were hung up on – on the ApplyTexas application it says "we consider applicants for their second-choice major in limited circumstances, including some situations related to honors programs and some in which applicants are not admitted to the major they selected as their first choice." Does this mean that if she isn't accepted into McCombs School of Business that she possibly won't even be accepted into the School of Communications because there are "limited circumstances" to do so? When otherwise she should be a sure thing for Communications?
Duke TIP for 7th Graders. Quick question… our son got an invite for Duke TIP. Family members whose kids have done it, are highly suggesting we do it. Taking the SAT or ACT in 7th grade seems crazy to me. Do you know if our 7th Grade Math even touches on SAT/ACT material. He qualified because of his Math score on our state exam, so I'm not sure how he'll do on Reading, although he scored pretty high on Reading too. In an case, I was hoping you could shed some light. Do you think it is a good idea?
Podcast: Play in new window | Download
Subscribe: RSS