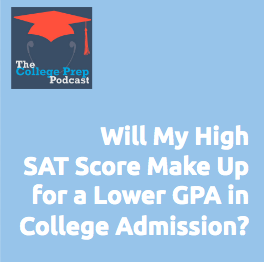 In today's episode, Megan responds to a mom's question about how to choose what schools her son has a chance of getting into based on his high SAT but average GPA scores.
Here's Sandra's question:
Any tips on how to be honest about chances of a senior with very high SAT more avg GPA.

SAT: 1570

GPA: 3.4 UW, 4.1 W
(downward trend)

We want to be realistic but still include a few reaches. Should we only look at GPA when we compare him to the numbers and just hope the SAT might lead to some merit aid? Will his SAT, subject test or AP scores give him any edge at all, or just show that he's capable but not hardworking?

Thanks so much – trying to stay sane and avoid heart break but not sell him short.
Here are the resources that Megan mentions in the episode:
Google "XYZ University Admitted Student Profile"
Use College Board's College Search Tool (check specific schools—"GPA/Academics" under the "Applying" tab)
Books
a. Fiske Guide
b. Colleges That Change Lives by Lauren Pope
c. Hidden Ivies / Public Ivies series
Podcast: Play in new window | Download
Subscribe: RSS