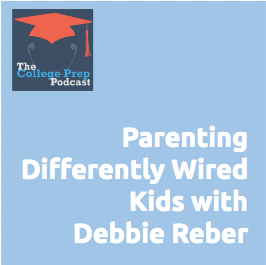 Parenting is always challenging, and being a parent of a "differently wired" kids comes with its unique set of adventures.
Listen in as parenting expert Debbie Reber shares tips for navigating the transition from homeschooling to high school with a 2e kid.
Specifically, we chat about:
What it means to be "differently wired" and "twice exceptional" (aka 2e)
Some of the challenges that come with parenting differently wired kids
Why Debbie initially chose to homeschool her son, and how they transitioned into high school
Advice for parents about the importance of self care and how to stay grounded
A great college for differently wired kids
And more
In this episode, Debbie mentions Landmark College, and we promised you to provide a link to this interview she did with Landmark College representatives. Enjoy!
Debbie Reber is a parenting activist, New York Times bestselling author, keynote speaker, and the founder of TiLT Parenting, a website, top podcast, and social media community for parents who are raising differently wired children. Her newest book, Differently Wired: Raising an Exceptional Child in a Conventional World, came out in June 2018. After living abroad in the Netherlands for the past five years, Debbie, her husband, and 15-year-old son recently moved back to New York City. For more information about Debbie's community for parents, visit her website at www.tiltparenting.com.
Podcast: Play in new window | Download
Subscribe: Apple Podcasts | Android | RSS