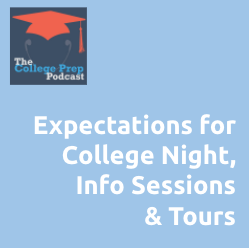 Should you be nervous when you go to your first college night, info session or tour? What should you expect, and how can you make the best use of your time when you talk to a college representative.
Megan walks you through three tips for an awesome visit, including:
The 3 different types of college events, and what to expect from each
How to prepare beforehand,
How to follow up afterwards,
Whether there's a dress code,
and more!
Podcast: Play in new window | Download
Subscribe: Apple Podcasts | RSS