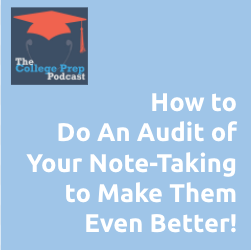 How good are your notes? Have you gotten "lazy" as Gretchen has?
Note-taking is arguably the most important skill academic coaches teach students, and we could ALL benefit from an audit of how well we do, students and educators alike.
Here are some questions Gretchen recommends you ask yourself:
Do you have a dedicated & organized PLACE to take notes?
Do you write too much or too little?
Do you write word for word what you hear or see?
If taking book notes, do you skim to plan your notes beforehand?
Do you review your notes afterwards?
Do you have methods to make your notes QUIZZABLE?
Do you SCHEDULE time for honing your notes on your calendar?
If you'd like Gretchen to do an audit of one page of notes FOR you at her next LIVE! event, please send a picture of one page to her at gretchen@gretchenwegner.com. Make sure you also sign up to attend the event at www.gretchenwegner.com/live.
Podcast: Play in new window | Download
Subscribe: Apple Podcasts | RSS